News
Largest floral arrangement: Vivel India sets world record
Date: 2012-09-10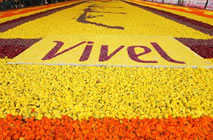 KOCHI, India -- 500 floral artists have created in eight minutes and 20 seconds a 25,979 square feet floral arrangement on ground at the Ambedkar Stadium in Kochi, for ITC's personal care brand, Vivel, setting the world record for the Largest floral arrangement, according to the World Record Academy:www.worldrecordacademy.com/.
The Guinness world record for the longest carpet of flowers is 2,011 m (6,597 ft 9.07 in) and was created by the People's Government of Kaifeng City (China) for the 29th Kaifeng Chrysanthemum Festival in Kaifeng City, Henan Province, China.
Guinness World Records also recognized the world record for the longest flower line: 2,059.90 m (6,758 ft 2 in) long and consisted of 2,606 flower boxes with 13,000 flowers. The line was created by the company Elho (Netherlands) and was presented and measured in Tilburg, Netherlands.
ITC's leading Personal Care Brand, Vivel, creates a World Record (as ratified by Limca Book of Records) by making the largest floral arrangement (Pookalam) in the world with the winners of the Vivel 'Reach for the Stars' Pookalam contest – held by Vivel to celebrate Onam across all districts of Kerala.
The participants were awarded a 'World Record Certificate' by Inspector General of Police Ernakulam Range, K. Padmakumar, and Sheik Pareeth, District Collector, Kochi.
Members of the record breaking team excitedly said, "We all are extremely charged up after creating a record with our Pookalam (floral arrangement). We would like to thank Vivel for giving us the opportunity to showcase our art and make our families proud."
Commenting on the special Onam initiative, Nilanjan Mukherjee, Head of Marketing, Personal Care Products Business, ITC Limited said, "We are extremely proud to have co-created the world's largest floral arrangement (Pookalam) record with all the participants and congratulate everyone on this momentous achievement."
Go Back